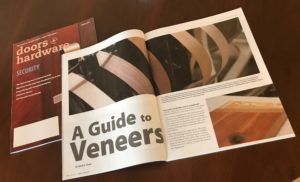 More than just the strength and stability that is at the core of every architectural wood door is an alluring beauty that can radiate from the face of a door. A door's aesthetics is set in motion by the choice of veneer, a thinly sliced layer of wood that is typically glued to a layer of fiberboard and adhered to each side of a structural wood core to create a five-layer "sandwich."
In the August 2017 issue of Doors + Hardware magazine, Oshkosh Door Vice President of Business Development Merle Visser lays out "A Guide to Veneers" for architects and business owners as they look to have the perfect architectural wood door that supports and enhances the overall interior design plan.
"Veneer application is a centuries-old woodworking technique that requires precision and understanding," Visser said. "The use of veneer is both a science and an art. The veneer provides stability in conjunction with the core and the fiberboard to deliver a balanced construction that reduces warp and bow. And, when veneer is carefully cut, matched and applied to a door, natural characteristics come to the forefront, even apparent to the untrained eye."
Read Visser's article here.
Oshkosh Door has a long history of manufacturing wood doors that dates back to the 19th century and the Civil War era. The company's production of veneer doors has evolved with the times and into a diverse market that includes hundreds of different species of wood.
"As customer demand changed throughout the years, so did our manufacturing techniques," said Oshkosh Door President Chris Calawerts. "Today, we use exotic veneer from throughout the world to craft the finest architectural wood doors available."
About Oshkosh Door
Oshkosh Door Company dates to 1853, shortly before the Civil War, when the city of Oshkosh, Wis., was just forming. Edward Paine and his sons moved their sawmill from New York to establish The Paine Lumber Company, which, in short time, dominated the millwork industry. Today, the company's 10-acre campus remains in Oshkosh, where all of the door manufacturing takes place. The company specializes in quick delivery of custom architectural wood doors that can be found in commercial applications worldwide. The company employs 130 people. To learn more about Oshkosh Door Company, visit oshkoshdoor.com..